On Saturday, Oct 1st, from 1-4pm, Tilly and her sister Madeleine are running a "community feast" for Stand Together in Tower Hamlets.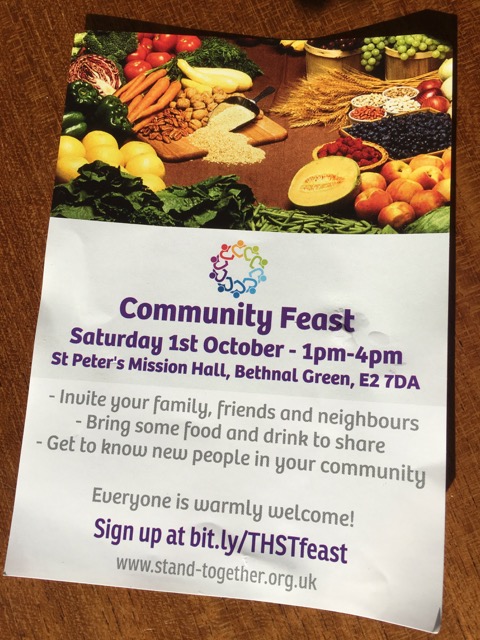 Here's Tilly's describes Stand Together and the feast:
Following the referendum result in June, my sister, Madeleine, and I founded Stand Together in Tower Hamlets. Stand Together aims to increase tolerance and engagement in the borough and beyond. To this end, as a group, we have organised a community feast between 1pm and 4pm at St Peter's Mission Hall in Bethnal Green, E2 7DA. The idea is that the feast will bring together diverse communities from across the borough, with people bringing food to share. There will be music, an auction and areas where people can come together to talk and get to know each other. We hope this will be the first of many community feasts and currently plan to hold them quarterly. We would love it if you would like to join us for our first feast, and indeed if you could spread the word about it amongst your friends, family and contacts.
For more information about Stand Together, please see our website: www.stand-together.org.uk. For the link to the Facebook event, please click here.